Globe Life Park (Texas Rangers) stadium seats are now available for Sale!!!

CLICK HERE to BUY GLOBE LIFE PARK SEATS


Candlestick Park stadium seats are now available for sale!
CLICK HERE TO BUY CANDLESTICK SEATS
Own a piece of history from your favorite stadium! All of our collectible memorabilia stadium seats are guaranteed authentic game used and come with a certificate of authenticity from S&S Seating (included in box or mailed separately).
Click on the stadium name in Red below to see all of the seats we currently have available...
**Globe Life Park (Texas Rangers)
**Georgia Dome (Atlanta Falcons)
**Fulton County Stadium (Atlanta Braves)

**Rosenblatt Stadium (College World Series)

**Shea Stadium (NY Mets)

**Giants Stadium (Meadowlands, NJ - NY Giants & NY Jets)

**Texas Stadium (Dallas, TX)

**Tiger Stadium (Detroit Tigers)

**Busch Stadium (St. Louis, MO)

**Dodger Stadium (Los Angeles Dodgers)

**new Comiskey Park/US Cell (Chicago White Sox)

**RCA Dome (Indianapolis Colts)

**Angels Stadium (Anaheim Angels)

**County Stadium (Milwaukee Brewers)

**Colleges: University of Alabama; University of Miami; Clemson University; Faulkner University; Providence College

**Seat Feet™

---
The seats have been carefully removed from the arenas directly by S&S Seating prior to demolition/renovation and are warehoused for protection until shipped. Brackets are included with purchase, when necessary, to allow seats to be free standing.

PLEASE NOTE: We have multiple sets available...the ones pictured are not the exact seats but will be similar. We will not be able to provide pictures of the exact seats you will receive, as they are already boxed up and ready to ship.

For immediate purchase, please click on the 'Buy Now' button below each item. You will be taken to a secure PayPal website for payment. Your seats will be shipped out via FedEx Ground services within five (5) business days of your order. Seat pairs are shipped partially disassembled (reassembly is easy).

Shipping & handling charges listed are for the continental US. For shipping to HI, AK and international, please contact us for addtional shipping charges.

In the very rare case of shipping damage, we do provide replacement parts free of charge. Damage claim time-limit is restricted to 14 days from delivery. Claims made after 14 days will be charged fees for shipping and replacement parts.
Please note our return policy prior to placing your order.
---
GEORGIA DOME - ATLANTA FALCONS
Back to Top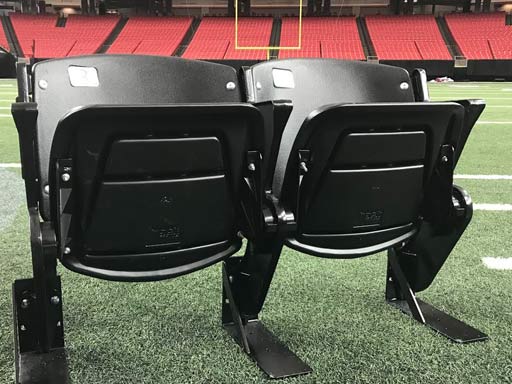 unrestored 'as-is' condition - vintage. shipped partially assembled
Black and Red (not pictured) available.
---
DODGER STADIUM - LOS ANGELES DODGERS Back to Top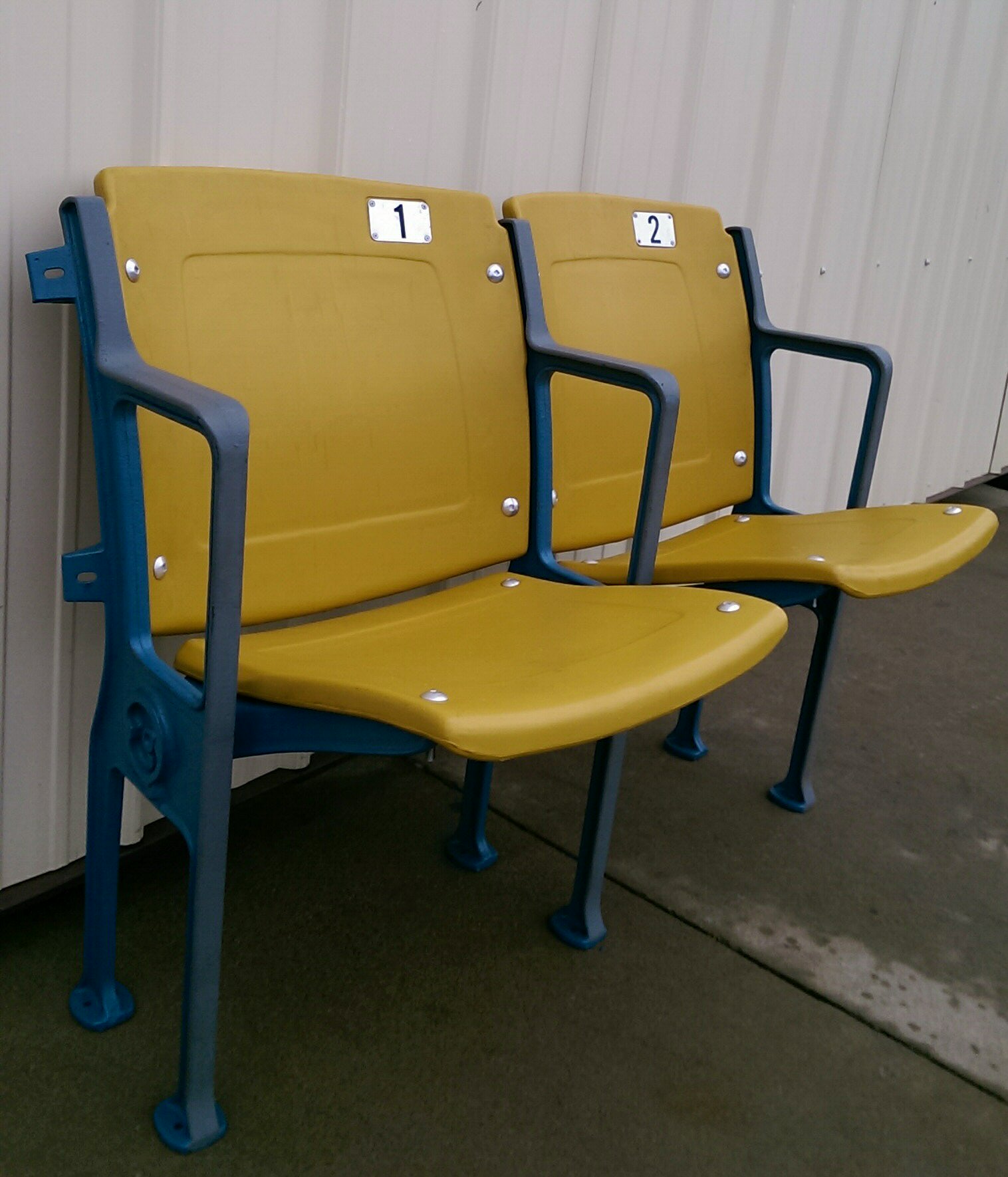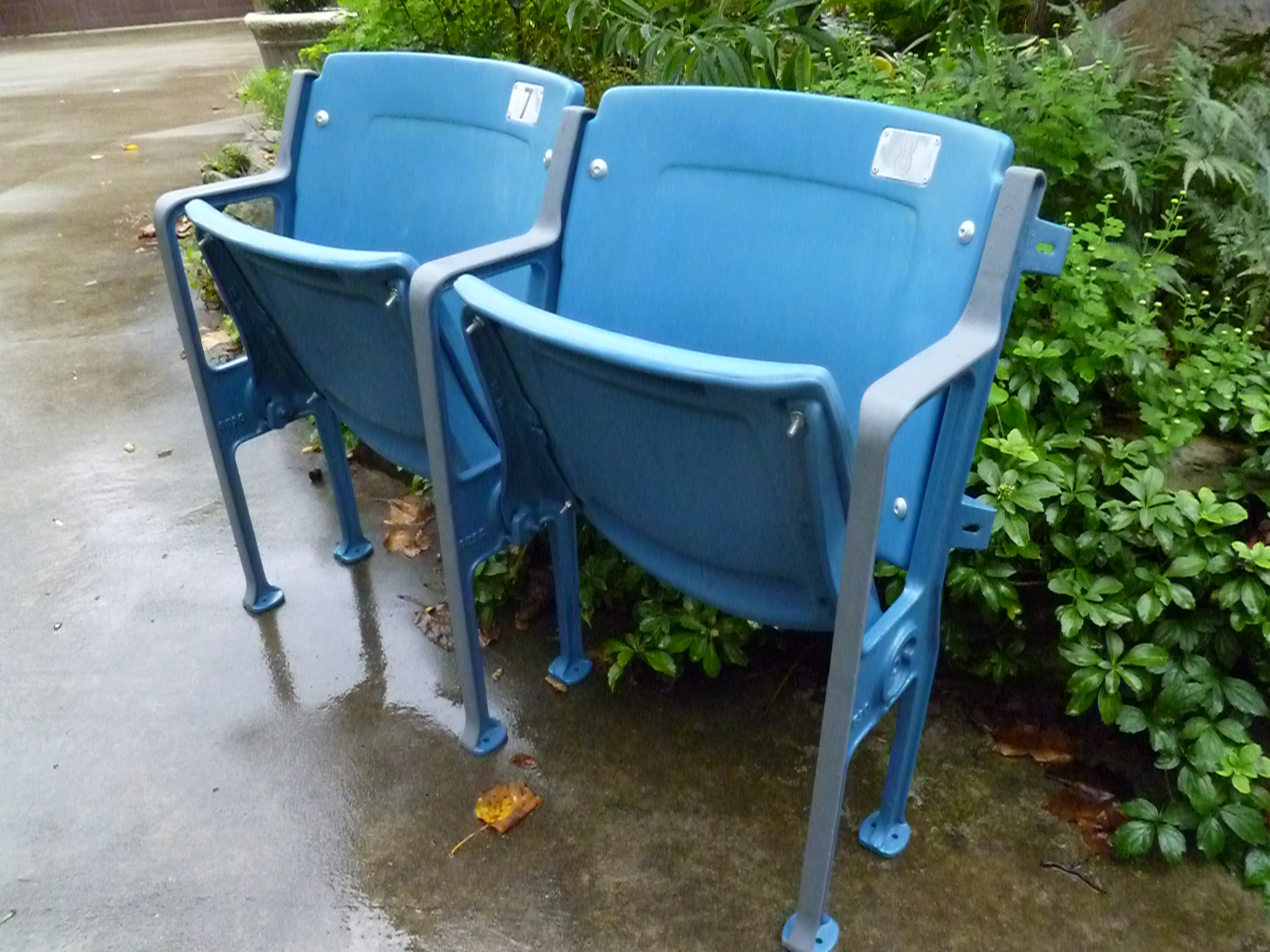 unrestored 'as-is' condition - vintage Fully Restored, Floor-mount, DODGER BLUE GOLD & BLUE - collector's edition
FLOOR-mount, Gold
seats are shipped partially disassembled

---
---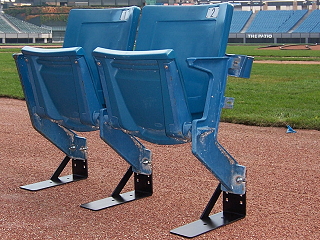 unrestored 'as-is' condition

seats are shipped partially disassembled
---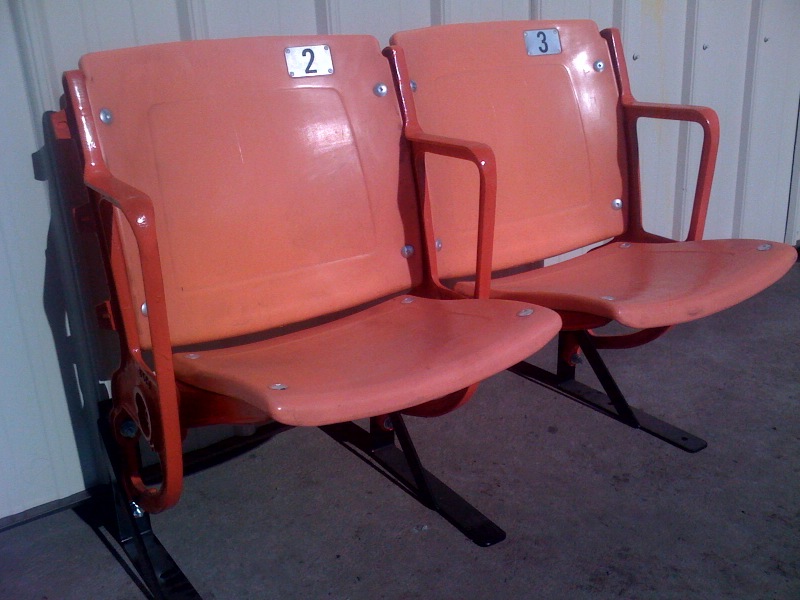 restored to look new - cast iron is repainted orange (or red for red seats)

seats are shipped partially disassembled

Color Options: Dark Orange & Light Orange & Red (see pictures below to see color differences)
***Due to high holiday demand, Red won't ship till mid to late January 2017.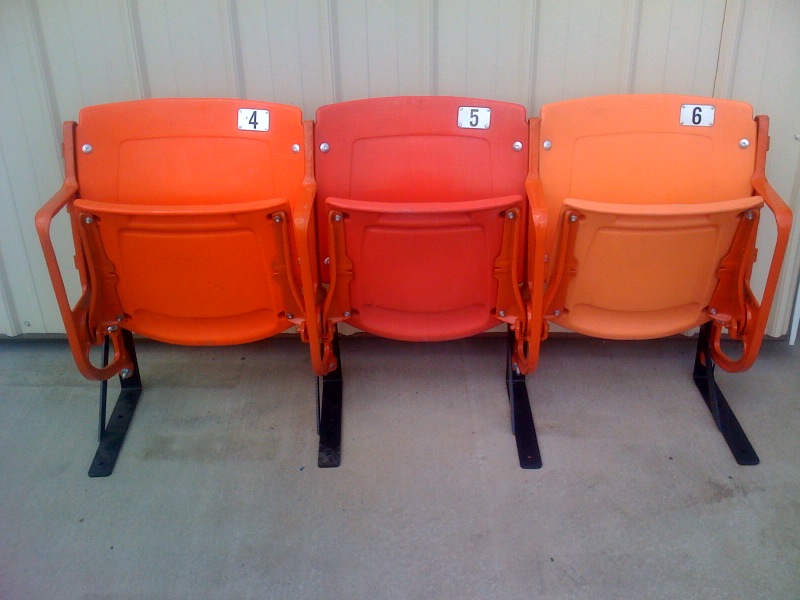 Unique Collectors Item - 3 colors from Atlanta Fulton County Stadium
Dark Orange, Red, & Light Orange

restored cast-iron standards
set of 3
(ships partially disassembled)

$555 (includes s/h)
---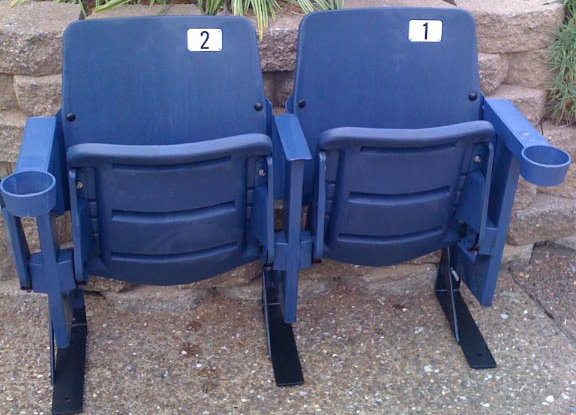 Standard seats without padded seat Padded seats from the 50 yard line box section

unrestored 'as-is' condition

seats are shipped partially disassembled
---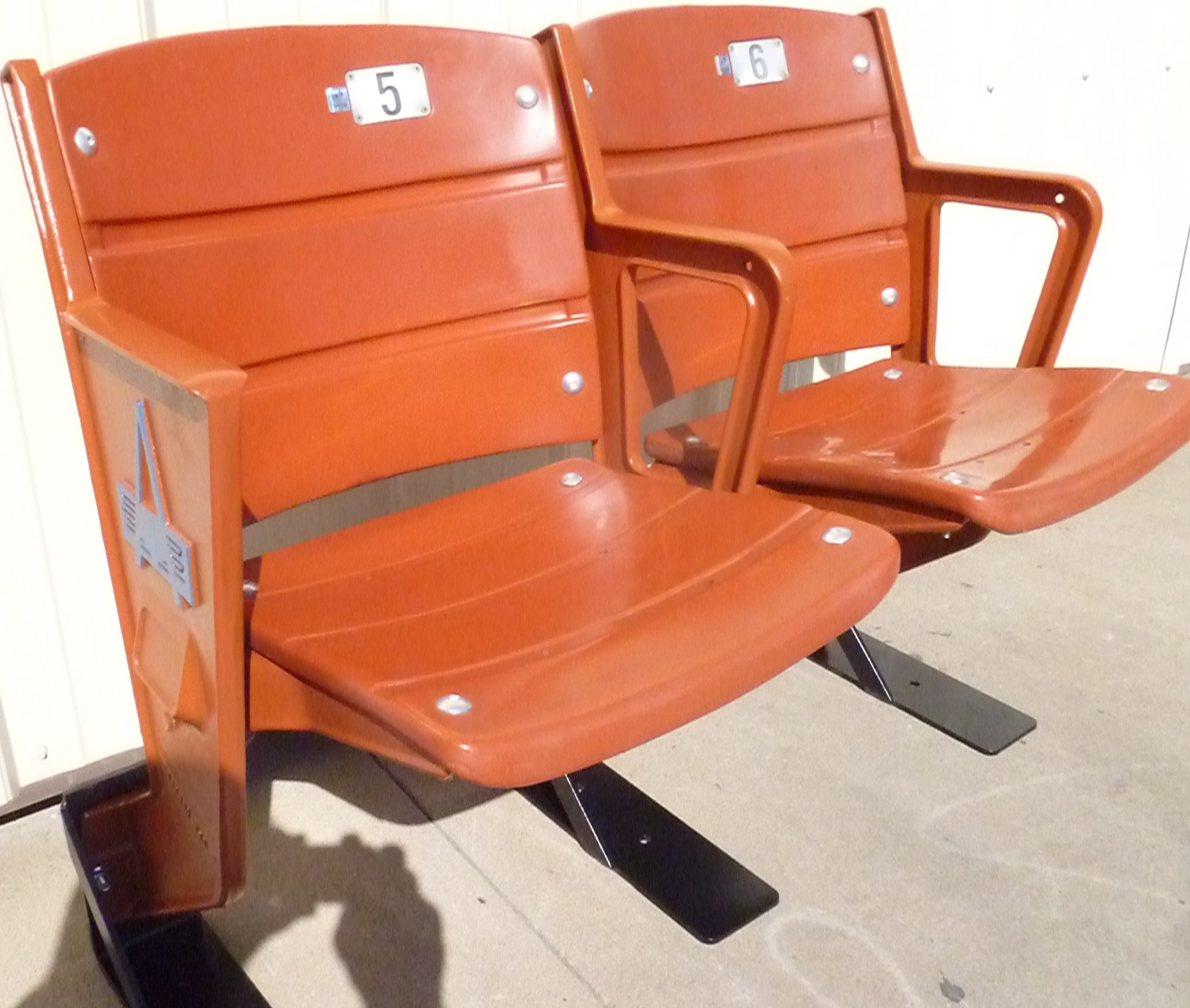 REFURBISHED & RESTORED TO ORIGINAL GLORY
---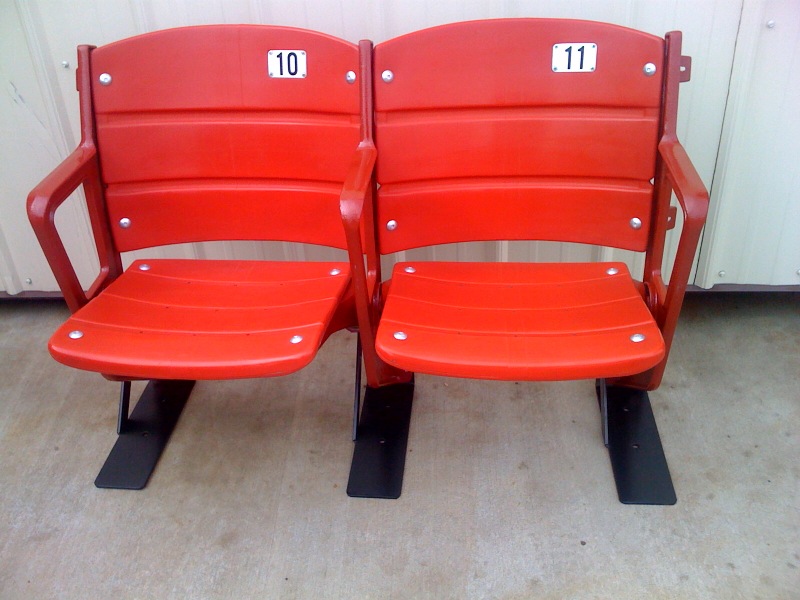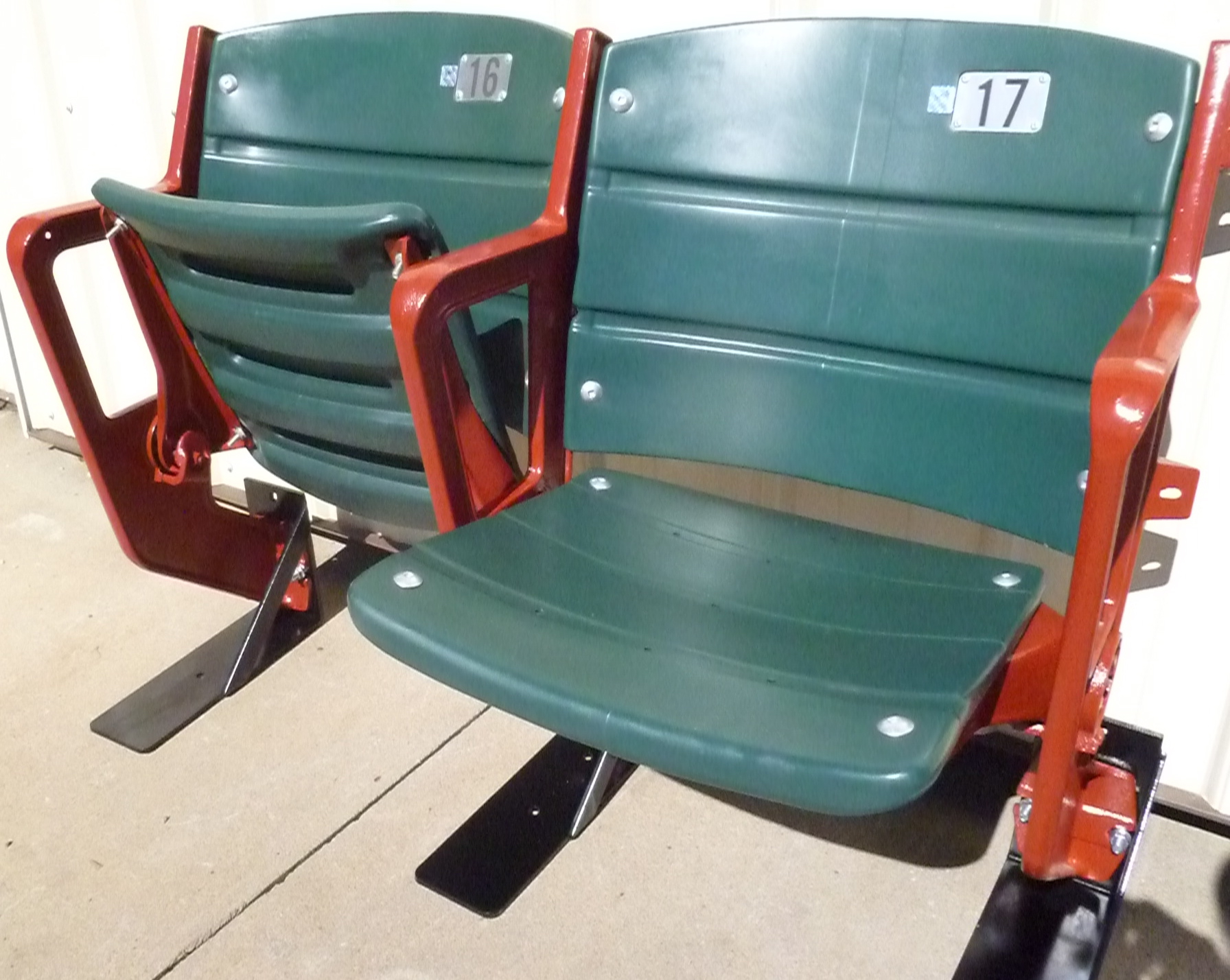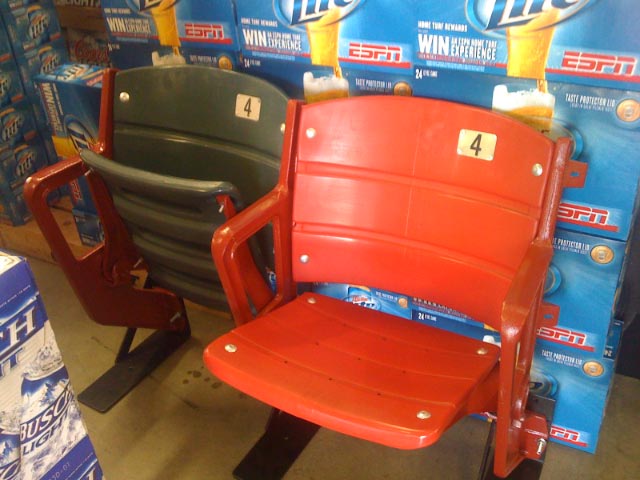 cast-iron standards restored to look new, repainted red
Red and Green seats available! Your choice below...
seats are shipped partially disassembled

---
WARNING!
These stadium seats are sold solely for the purpose of being sports memorabilia. When the seats were bolted to concrete in the stadium which they came from, the seats were stable. But the seats are no longer bolted to concrete. Even after securely attaching the seats to the "L" shaped brackets that are provided to you, the seats could collapse or tip over, which could cause serious bodily injury, including, but not limited to, head, neck, and back injury. Do not sit in, stand on, or otherwise use the stadium seats, and keep children away from the seats until the "L" brackets are securely fastened to a suitable floor.
Once your stadium seats are securely fastened to the "L" brackets provided to you, call a qualified professional, one who works with the types of flooring you have in mind for your seats, to install the "L" brackets to your flooring. Flooring varies and only a professional will know where and how the "L" brackets may be fastened to your floor without destroying or harming your floor and how to ensure that the "L" brackets are securely and safely fastened to your floor.
FAILURE TO APPROPRIATELY ATTACH THE "L" BRACKETS TO A FLOOR MAY RESULT IN THE SEATS COLLAPSING OR TIPPING OVER, WHICH COULD CAUSE SERIOUS BODILY INJURY, INCLUDING, BUT NOT LIMITED TO, HEAD, NECK, AND BACK INJURY.
---


Our partner site Stadium Seat Depot has patented Seat Feet™ which go great with our seats.
* Patented Seat Feet™ make your stadium seats completely portable and extremely stable for sitting WITHOUT bolting to your floor or deck. NO DRILLING required.
* Seat Feet™ attach to your existing steel brackets or floor-mount legs. Assembly is easy!
* Seat Feet™ have rubber pads on the bottom so they will not scar the floor and it also prevents them from scooting.
* Seat Feet™ will enable you to use your seats on your deck, in a game room, in a kids room, in the basement, or around the fire or grill. Enjoy your seats anywhere you want, indoors or out!

Visit their website www.StadiumSeatDepot.com to purchase today!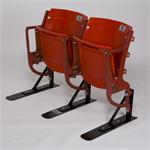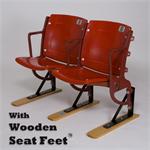 Also available from StadiumSeatDepot.com are the new "Rockin SeatFeet".
Turn you stadium seats into rocking chairs!!!