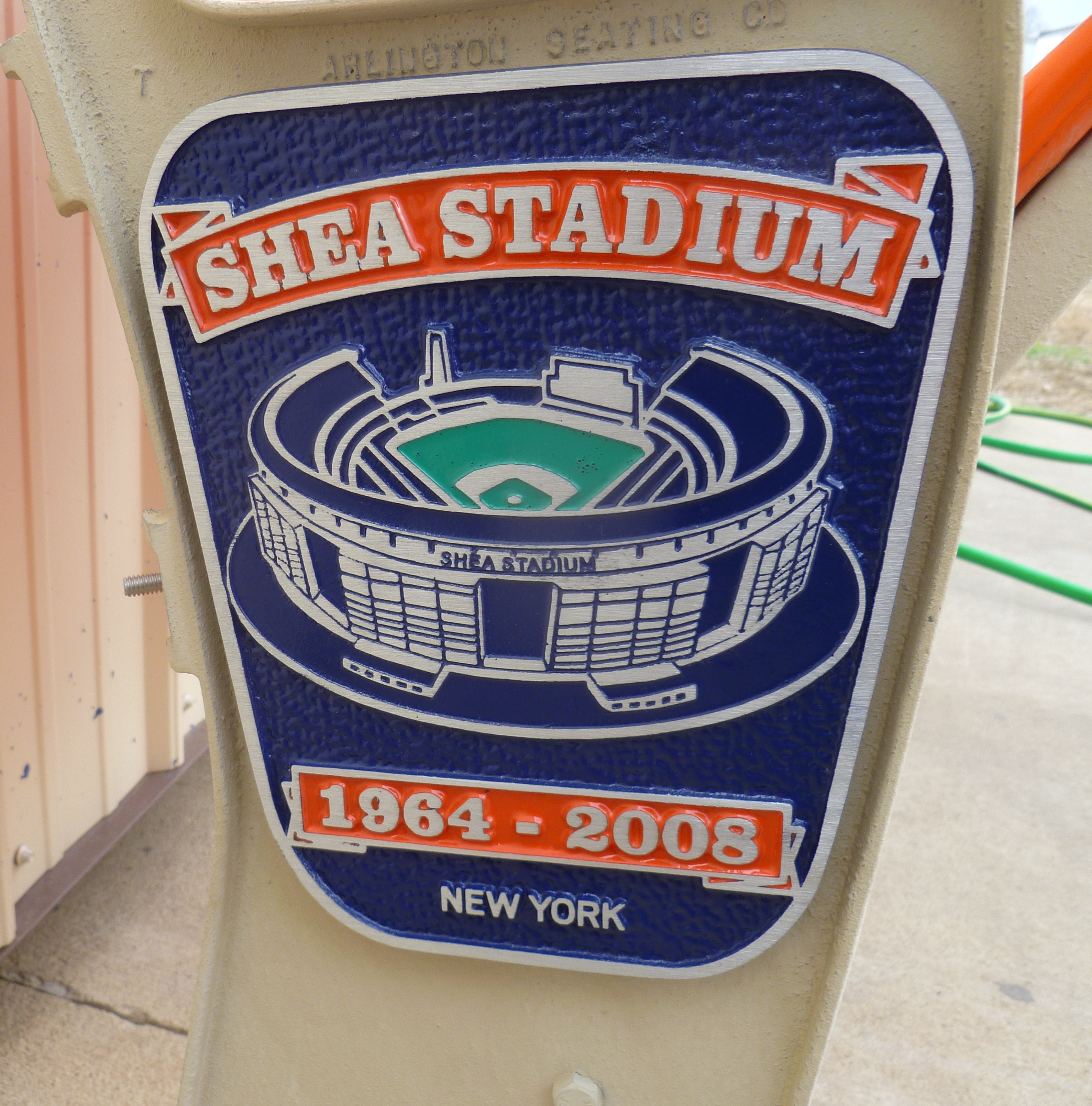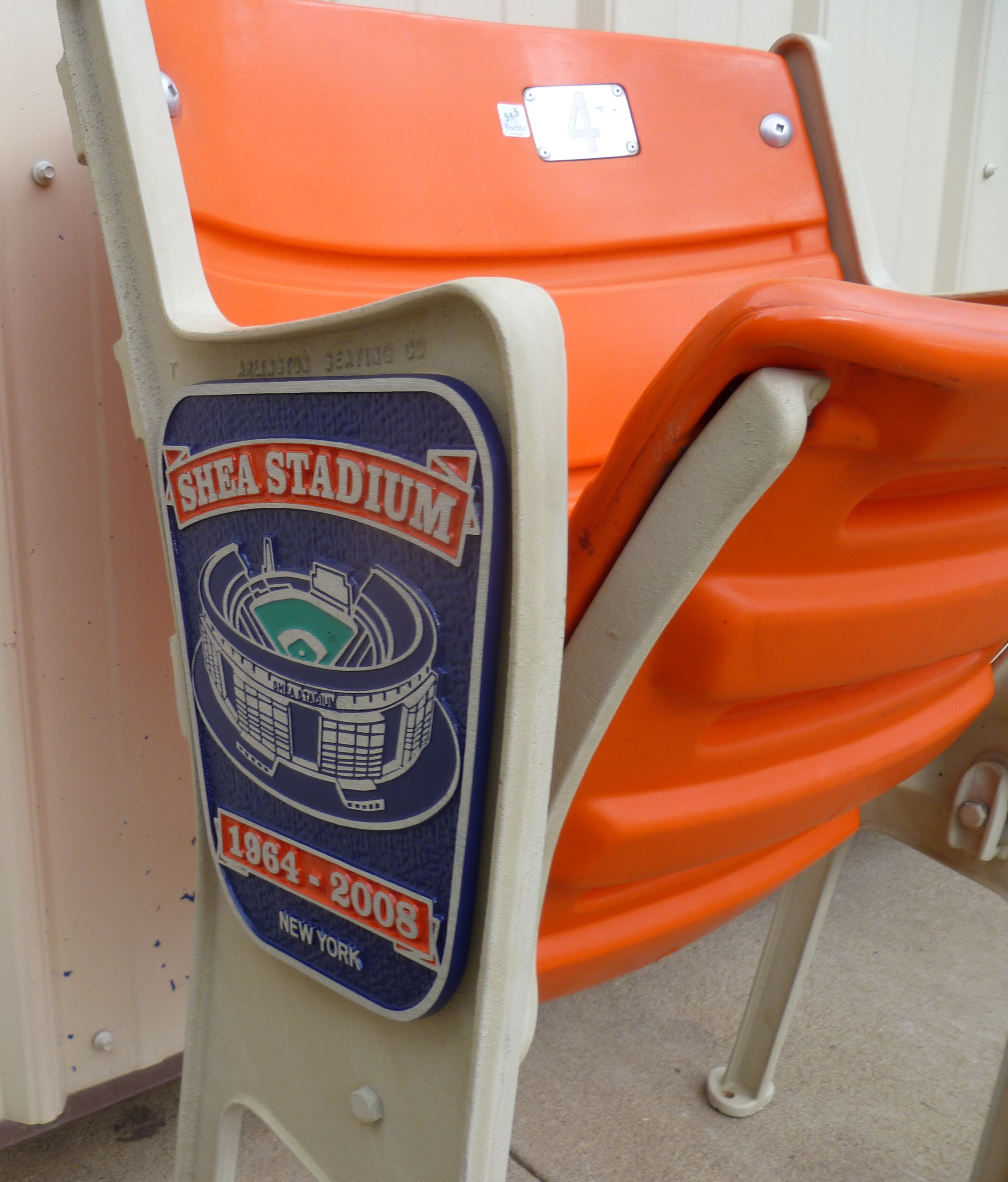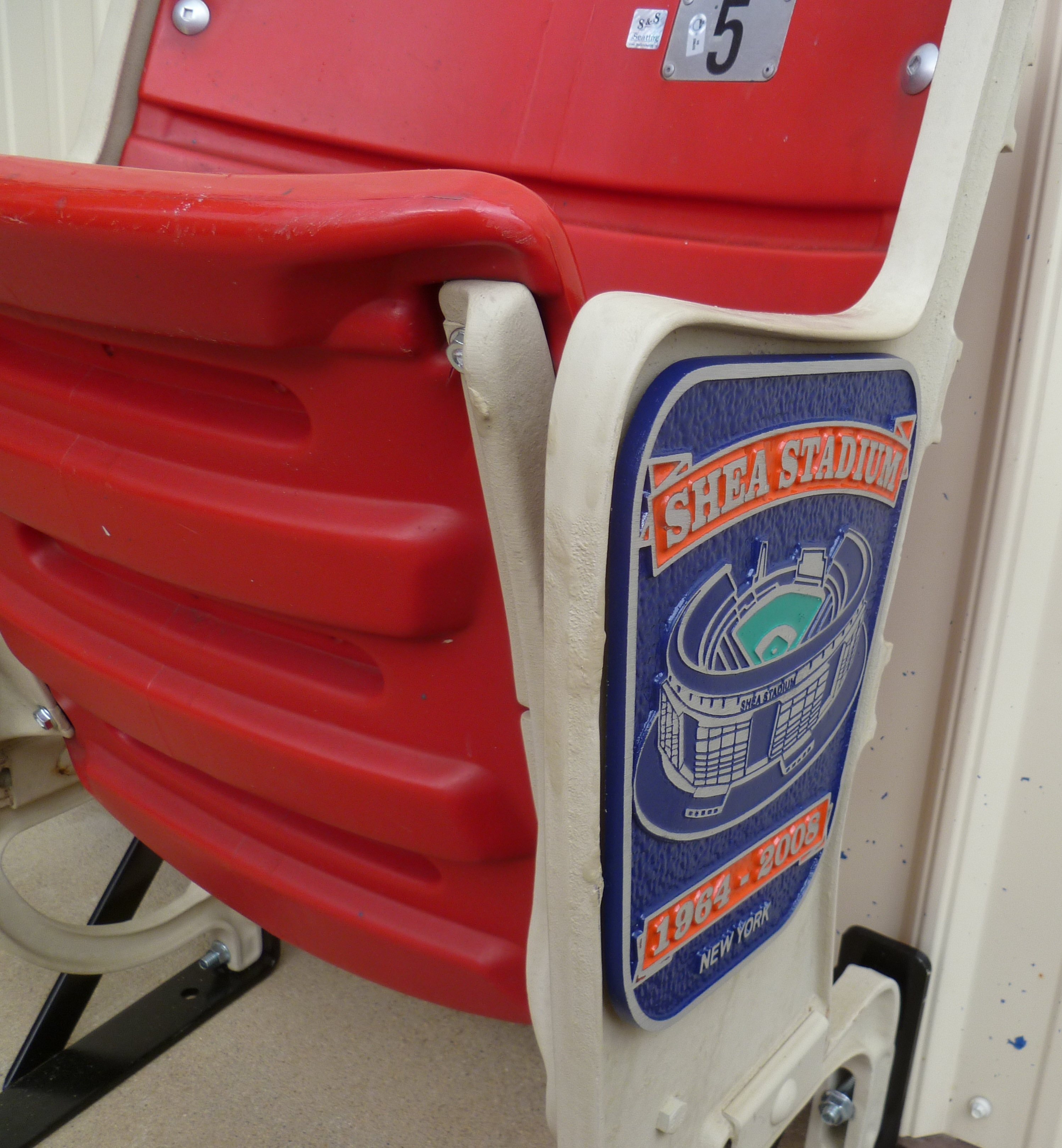 Custom designed COMMEMORATIVE MEDALLION logo ends
!!!
Made of cast-metal, these are one of a kind custom designed commemorative medallions.
All seats and cast-iron arms/legs were in Shea Stadium. Medallions were made after the stadium was demo'd.


PLEASE CHOOSE BELOW LEFT for medallion-end seats AND CLICK 'BUY NOW'
Single Seats available!!!

---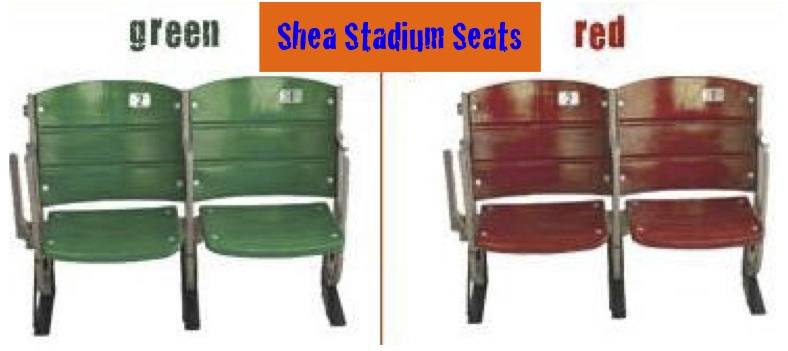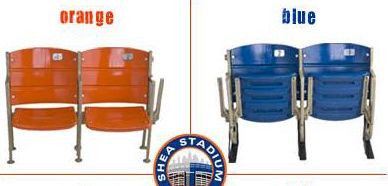 Non-Medallion Seats available
LIMITED SUPPLY - ONCE THEY ARE GONE, THEY'RE GONE!


PLEASE CHOOSE BELOW LEFT for non-medallion seats AND CLICK 'BUY NOW'
Single Seats available!!!

---
COLLECTORS EDITION - ALL 4 COLORS
Perfect gift for the Mets fan who has everything...get them a seat from every level in Shea Stadium!
Seats are on refurbished riser-mount standards and include steel floor-mount brackets to enable free standing.



$1,499


---

Own a piece of history from SHEA STADIUM! All of our collectible memorabilia is guaranteed authentic game used and come with a certificate of authenticity from S&S Seating.
These seats were carefully removed from Shea Stadium in 2008 by S&S Seating and have been warehoused for protection until shipped.

For immediate purchase, choose your color option above and click on the 'Buy Now' button. You will be taken to a secure PayPal site to process your transaction.
We can accomodate specific number requests, where available.

Your seats will be shipped via FedEx Ground services within 15 business days of your payment. Seat pairs are shipped partially disassembled.

For shipping to HI, AK and international, please contact us for addtional shipping charges.

Seats are refurbished, meaning the original paint has been removed from the metal arms/legs and they have been repainted in 2008, per the NY Mets & NYC contract when we removed them from the stadium. The cast-iron standards does have some rust on them. Please note our return policy prior to placing your order. The seats you buy will be similar to the pictures above, but will not be the exact seats. All seats are in working order.

Riser-mount seats (Red, Green, Blue) include steel brackets to enable the seats to be free-standing.

Thank you for your interest!
Citi Commercial Featuring Shea Stadium Seats!
---
WARNING!
These stadium seats are sold solely for the purpose of being sports memorabilia. When the seats were bolted to concrete in the stadium which they came from, the seats were stable. But the seats are no longer bolted to concrete. Even after securely attaching the seats to the "L" shaped brackets that are provided to you, the seats could collapse or tip over, which could cause serious bodily injury, including, but not limited to, head, neck, and back injury. Do not sit in, stand on, or otherwise use the stadium seats, and keep children away from the seats until the "L" brackets are securely fastened to a suitable floor.
Once your stadium seats are securely fastened to the "L" brackets provided to you, call a qualified professional, one who works with the types of flooring you have in mind for your seats, to install the "L" brackets to your flooring. Flooring varies and only a professional will know where and how the "L" brackets may be fastened to your floor without destroying or harming your floor and how to ensure that the "L" brackets are securely and safely fastened to your floor.
FAILURE TO APPROPRIATELY ATTACH THE "L" BRACKETS TO A FLOOR MAY RESULT IN THE SEATS COLLAPSING OR TIPPING OVER, WHICH COULD CAUSE SERIOUS BODILY INJURY, INCLUDING, BUT NOT LIMITED TO, HEAD, NECK, AND BACK INJURY.