Upgrade your stadium with top of the line used chairback stadium seats. Your fans & boosters will pay extra to sit in comfortable chairback seats!!!
Return on investment is huge...make a profit your first year and then big revenue every year, year after year.
What could your program do with an extra $10,000; $20,000; $50,000 each and every year??

CLICK HERE FOR PRICING INFORMATION

---
We have different colors available including Blue (Navy & Royal), Red, Orange, Green. We have limited supplies of Gold & Beige. We sometimes do come into possession of other colors, feel free to check with us on your specific color preference.
---
Features and Benefits
A durable cast iron frame is standard for both floor and riser mount conditions, with integral arm rests. Double-walled, blow-molded polythylene plastic seat and back are contoured for comfort. Ultraviolet inhibitors prevent cracking and high quality pigment resists color fade. Multi-step paint and finish processes ensure longevity of exposed cast iron components. The seats are well suited to high-pressure cleaning.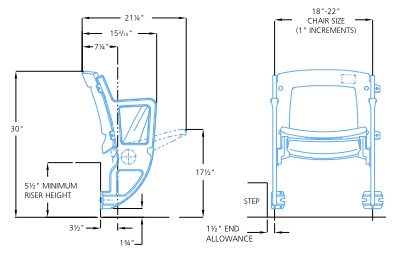 dimensions for a typical riser-mount Hussey Seating (left) American Seating 406 style stadium seat (right)
(our inventory typically has sizes 18"-20", with some 21" available)
Most of our inventory is "Riser Mount" seat legs.
Seat legs ('standards') are most commonly available in "riser-mount" style that attaches to the vertical portion of the concrete step.
We also have a limited supply of "floor-mount" legs that attach to the horizontal portion of the concrete step, as well as BRACKETS that turn Riser Mount legs into floor mount (see pictures below).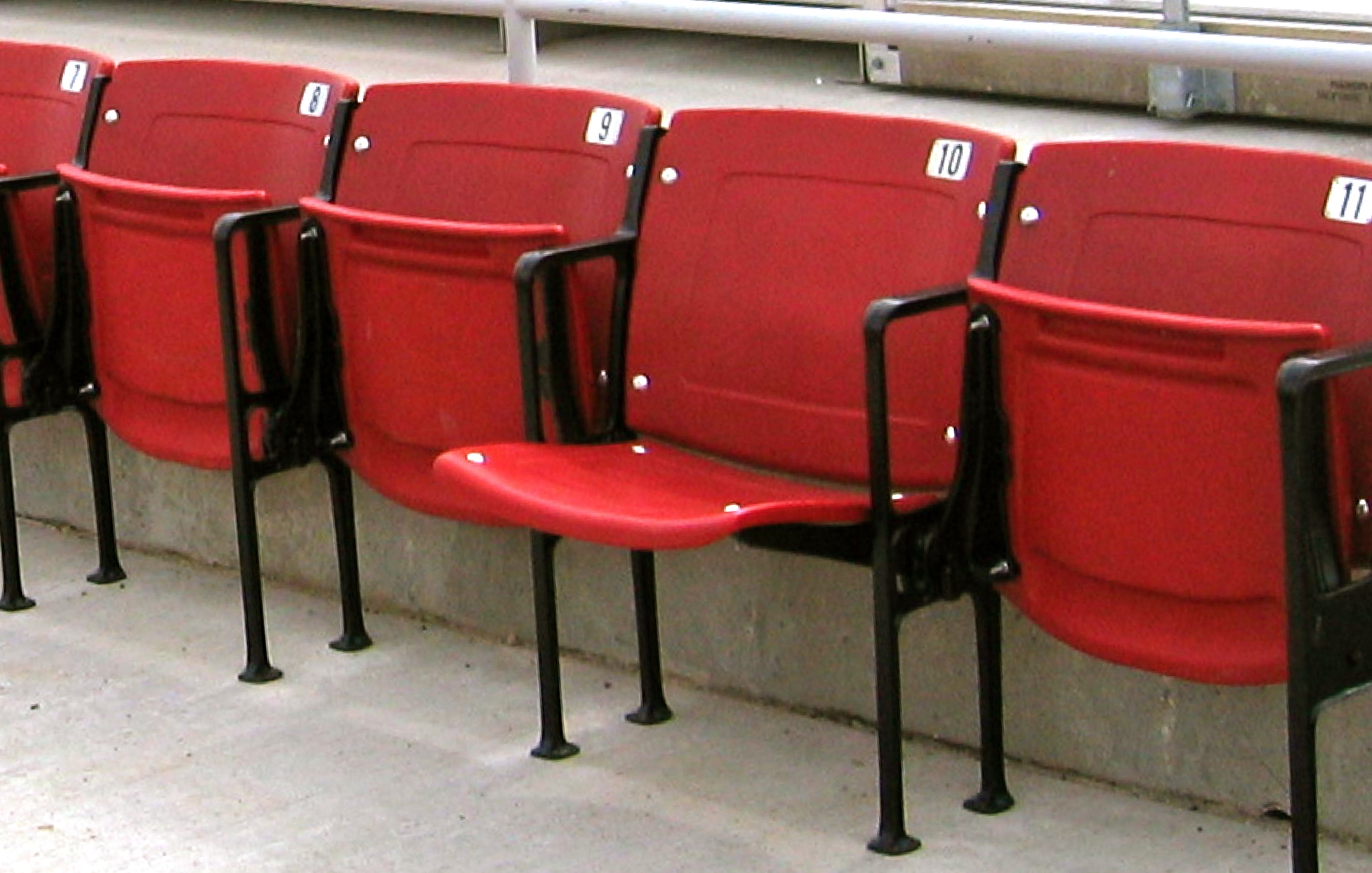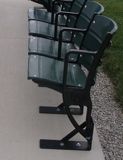 Floor-Mount Legs vs. Riser-Mount with Brackets

---
To download the original manufacturer's installation instructions, please click on the following links:

American Seating installation instructions
Hussey Seating installation instructions

---
The pictures below are examples of some of the styles and colors available: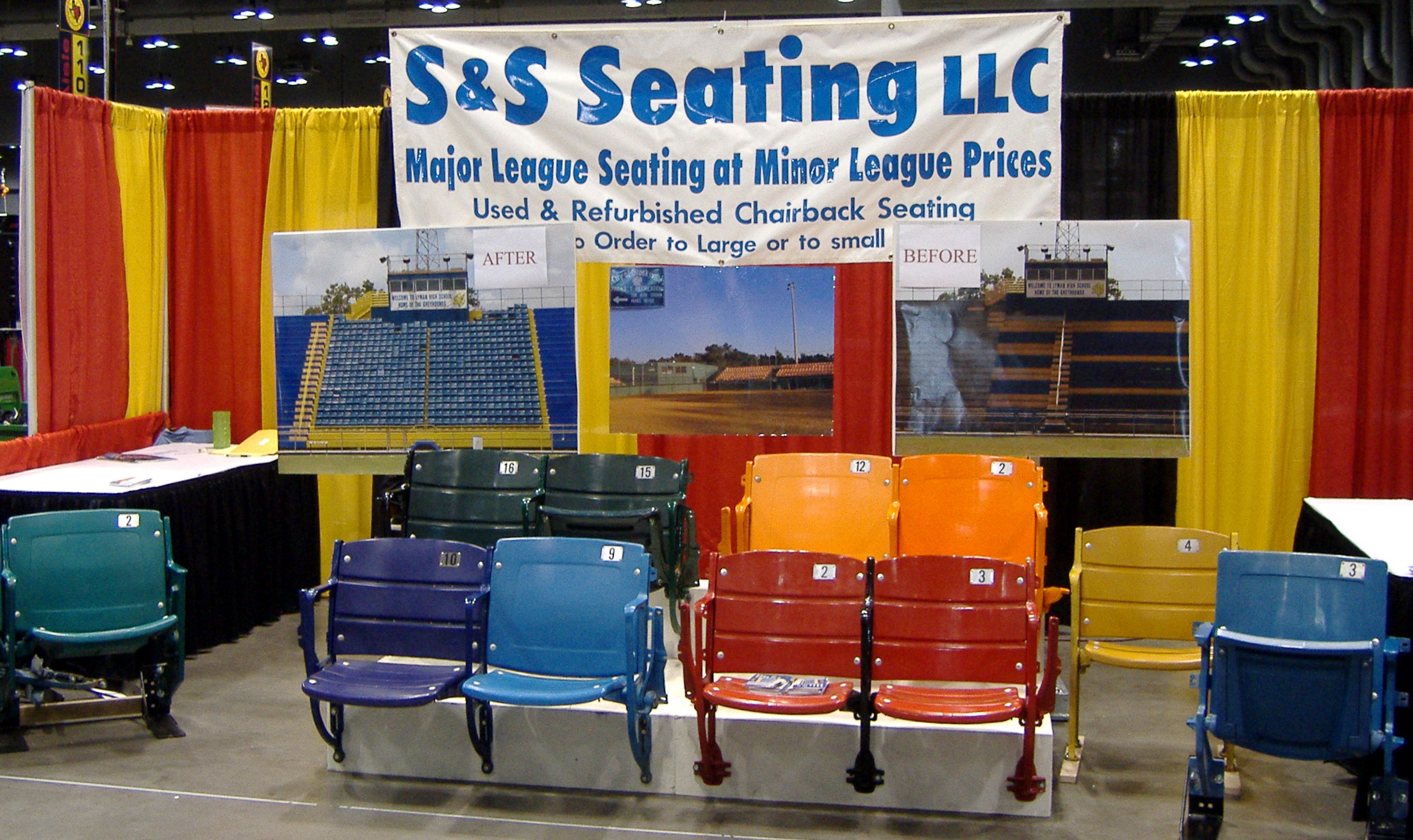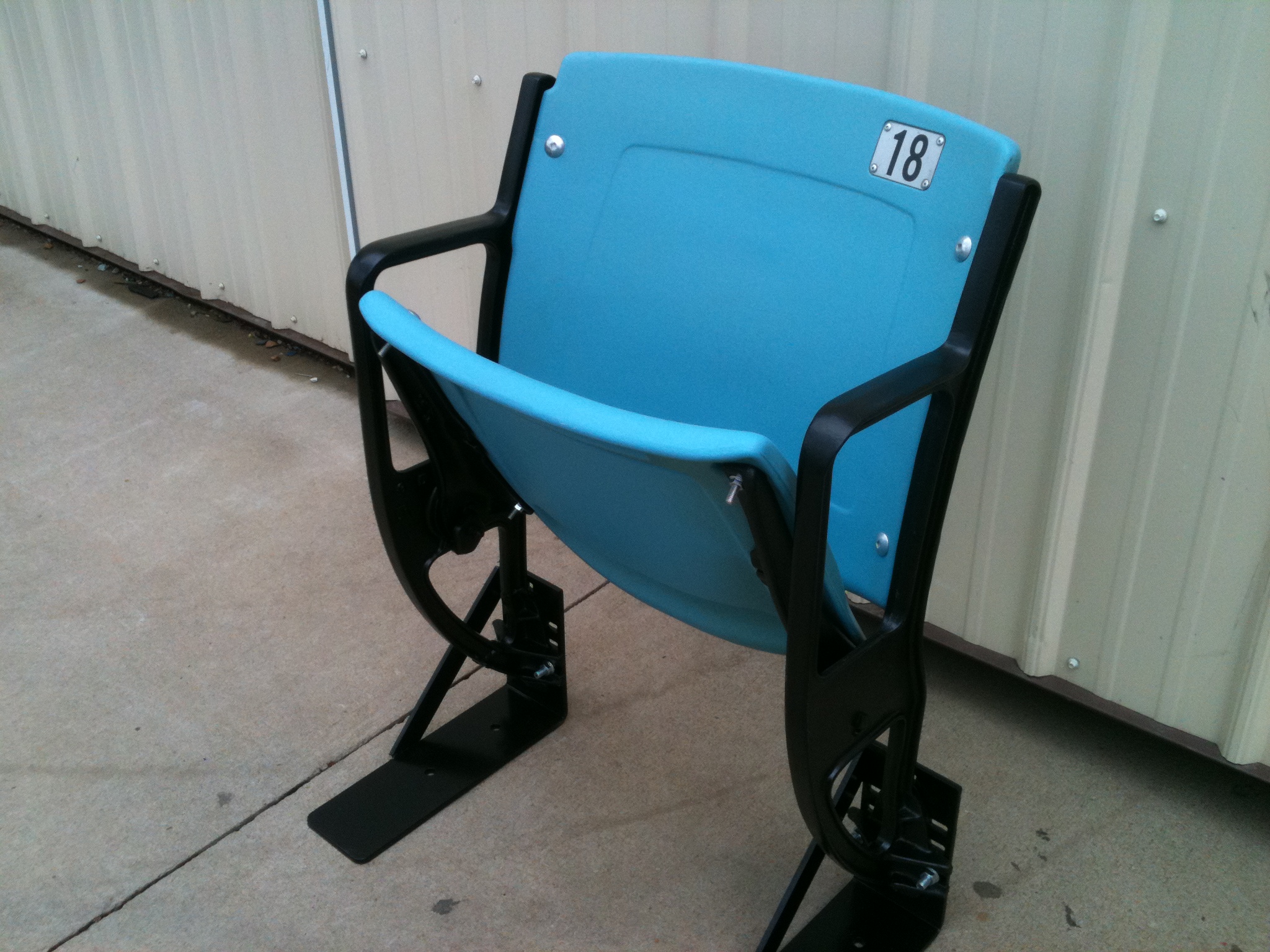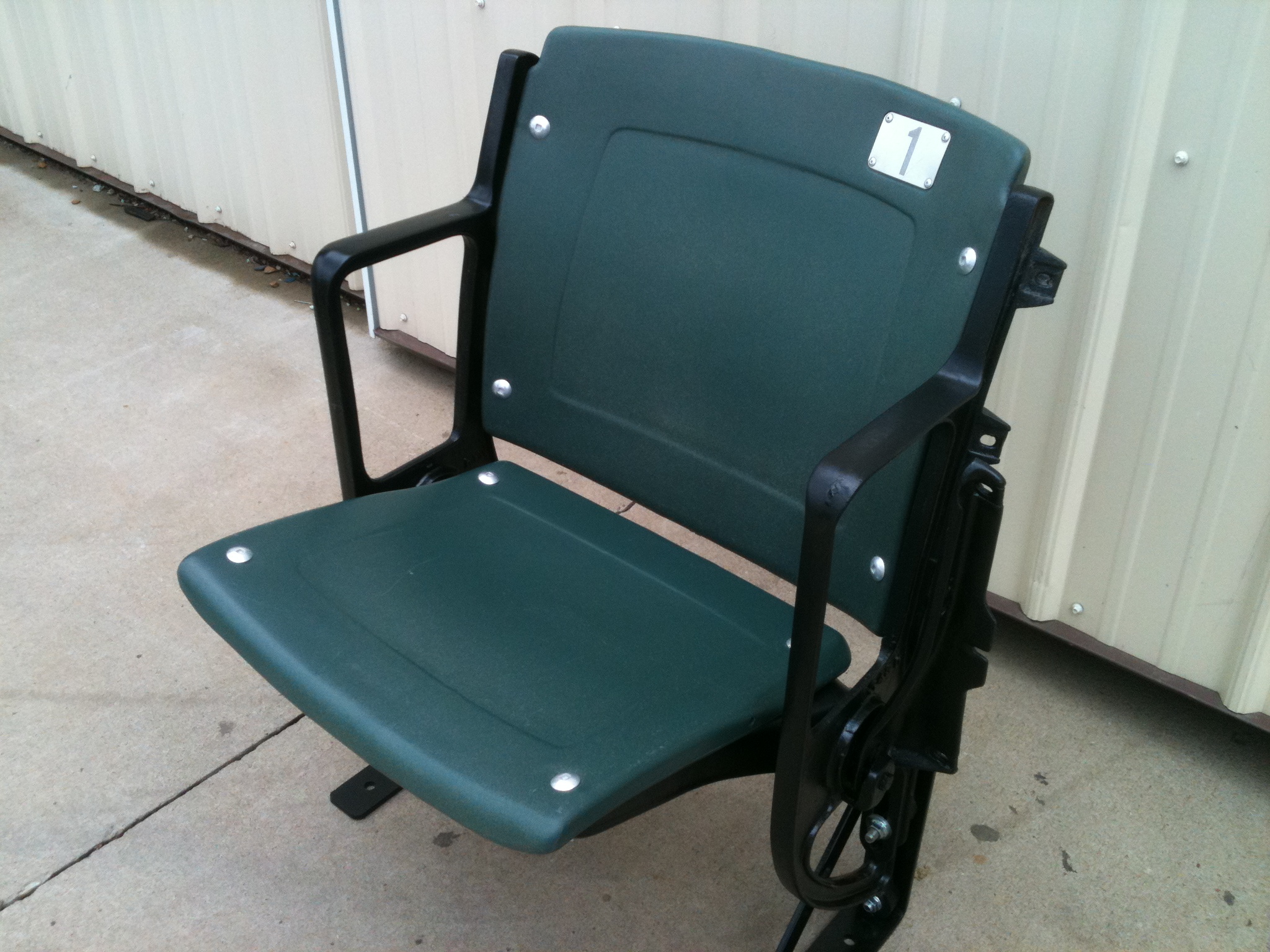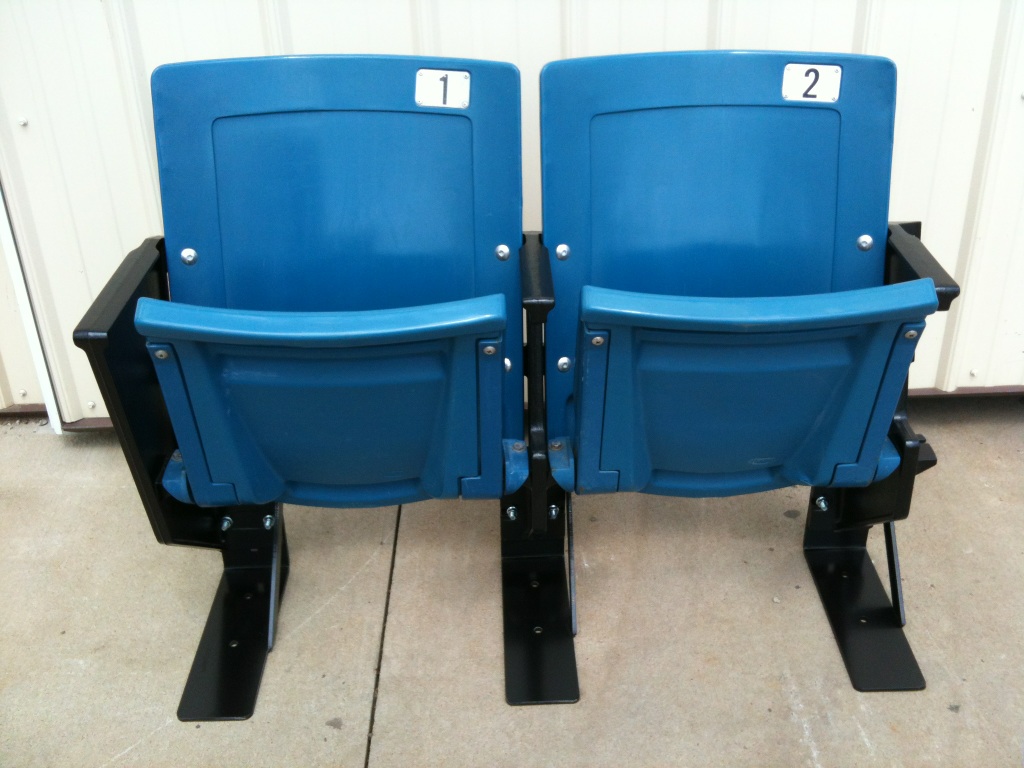 Below left is a pair of Beige seats with UNREFURBISHED standards (arms/legs). As you can see, where the paint has been rubbed off over the years, the cast-iron has oxidized and shows signs of rust. Our refurbishment process completely reconditions the cast-iron and then we repaint them black to look new (below right).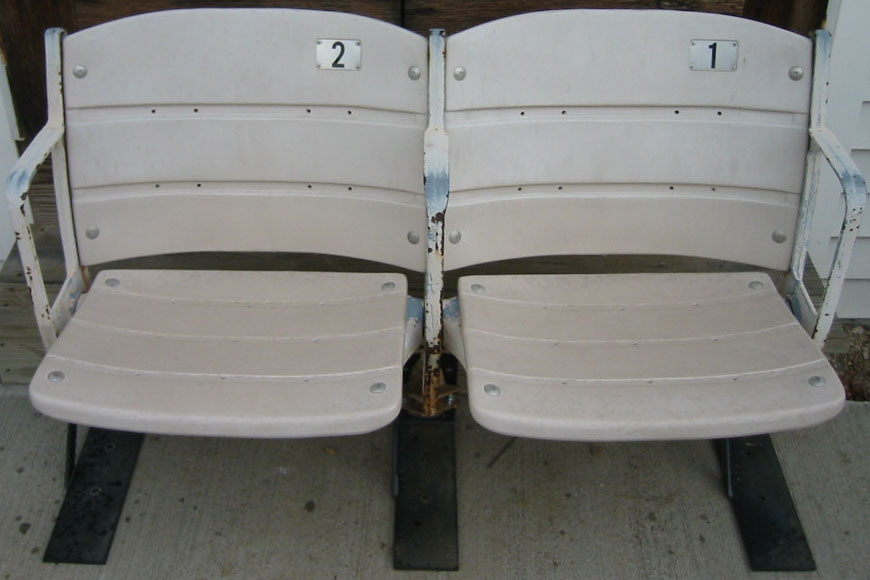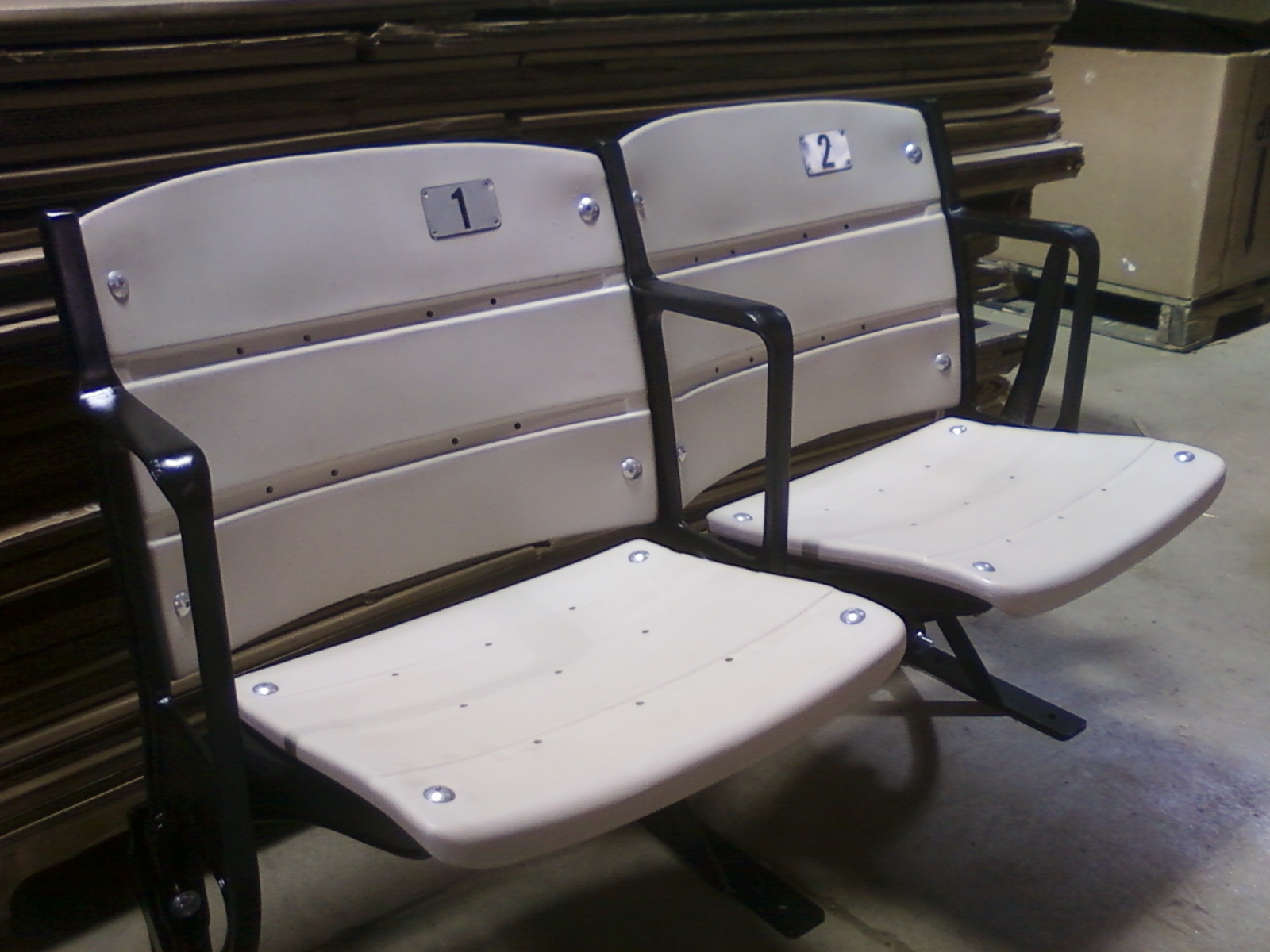 Below are three stadium seats (GOLD 404-style, RED-406 style & ORANGE-406 style) whose arms/legs have been REFURBISHED (reconditioned and repainted black).
Refurbishing the cast-iron arms/legs will make your used stadium seats look brand new!